https://www.youtube.com/watch?v=OW_EmSfKAdA
The 5 Traits
of Techno-Resilient People & Organizations
Being Techno-Resilient means cultivating your capacity for thriving as a technology-enhanced workplace, by maximizing existing resources and team efficiencies, while minimizing costs and complexities.
It is a willingness to overcome, and not to be overcome by, any 'lack of's.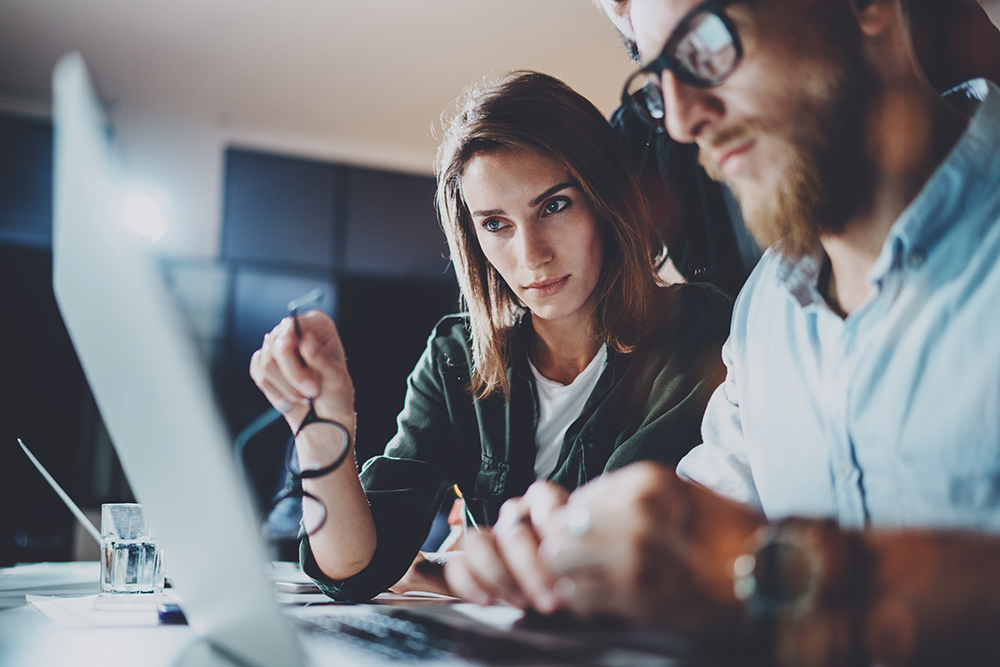 Make it a professional imperative to thrive and be great!
In a world of greater numbers of employees working from home than ever before,
and our seeking efficiencies with new technologies driving our organizational environments, we all have two choices:
1. We can feel overcome by the challenges
2. We can forge ahead in overcoming them
The latter is what it means to choose to become Techno-Resilient!
The 5 Traits of Techno-Resilient People & Organizations:
Hover to uncover the 5 Traits secrets
Trait 1
Mandate
to Great
Have a driving professional imperative.
It was once commonplace to think that self-motivation is required of every leader. While true, self-motivation will not suffice in the wake of new world challenges like the isolation of working from home and the need to build a psychologically responsive workplace. When we remove the 'self' from self-motivation, we are left with something much more: A Mandate to Be Great. For any organization, institution or community to move forward, there much be collective vision and cohesion to be and do better.
Work with Dr Rob
Trait 2
No What, No How...Know Where!
Addressing your NO-how with KNOW-how!
Becoming a technology-driven or technology-enhanced organization means that there will likely be more questions than answers and a lack of employee know-how will need to be addressed. One of the greatest collective understandings and catalysts moving forward will be to be clear on where you are going as an organization. This realization, coupled with an accompanying skill set, will change the way you learn, work and support one another, for the better.
Work with Dr Rob
Trait 3
Barriers + Bridges = Breakthroughs
Find a "Meta for" moving from overcome to overcoming.
Being thrust into operating a technology-driven workplace can expose 'barriers' like lack of training, know-how and resources. This can rapidly lead to a state of feeling overcome and overwhelmed.
While challenging, this shift can also be one that strengthens learning and collaborative environments. It can one that creates community and leads to greater levels of inspiration and innovation. Overcoming 'lack of's' begins with a seismic shift in thinking and practice, thereby creating the bridges that lead to true breakthroughs.
Work with Dr Rob
Trait 4
Drive to Thrive
Be in command of your Mentor"ship".
Having a true Drive to Thrive is about having a 'community of practice,' where everyone within the organization moves forward as part of a greater shared vision and purpose. Collaboration, cooperation and coordination all play a role, as the organization as a whole opens up to more quickly expand pockets of resilience and thrive over the long-term.
When you prioritize and bring this collective desire to be good and to do good into focus consistently , the Mandate to be Great becomes magnified, leading to sustainable techno-resilience.
Work with Dr Rob
Trait 5
Kingdom of 'FREE'dom
Develop low-cost, user-friendly internal capacity.
True Techno-Resilience is driven by a Mandate to Be Great, not at 'all costs', but at 'no cost'.
Creating a Kingdom of FREEdom is about planning and sourcing the tools, training and technologies that take you and your organization, institution, or community from being Techno-Resilient to becoming truly Techno-Efficient! It is about strategically sourcing the resources that will help you fulfill your drive to thrive and live out the Mandate to Be Great.
Work with Dr Rob
"I have known Dr. Rob Graham for over a decade. I was studying with him at Lancaster University at a time when he was shaping his pioneering and innovative theory of Techno-Resiliency. Rob's pragmatic 'Make IT Happen' approach provides a unique and inspirational foundation for organizational development."

Dr Andy Hollyhead, PhD, MA, BSc (Hons), BA

Associate Lecturer, The Open University, Milton Keynes, UK; Former Associate Professor & Lead Academic, Governance and Assurance Hub, Birmingham City University
"Dr. Rob Graham is the leader in the conceptualization and practice of techno-resiliency. A well-regarded thinker and scholar in the educational technology space, Rob understands that our contemporary world can only go forward if we bring the ideal of techno-resiliency to all aspects of work, business, and life in general. He inspires those looking for a better and brighter world to learn how to leverage technology in unique and life-affirming ways. In our post-pandemic world, Rob's teachings could not be more important."

Dr. Lorraine Carter

Director, McMaster University Continuing Education
"Rob Graham is an intelligent, energy filled educator who immediately captivates a room with his presence. He truly inspires those he works with."

Chris Dawson

GM/VP, Hockey Operations, Powassan Voodoos
"Dr. Graham is a gift to any organization. His technical knowledge matches his superb teaching abilities, making Dr. Graham a welcomed instructor in any learning environment. His research skills are solid and his ideas regarding computer use are progressive and forward thinking."

Dr. Jennifer Barnett

Professor, Nipissing University
"Dr. Rob Graham's contributions to our organization have been substantial. As Chair of our Board's Human Resources committee, Rob's level of engagement has been exemplary, and he excels at keeping our committee organized, productive, and on task. By donating his time and talent to our not-for-profit Rob has truly made a lasting impact and we're very grateful for how much he gives back to our community."

Tessa Clermount

Executive Director of the North Bay Military Family Resource Centre